"Run. Think. Shoot. Source."
―Black Mesa tagline, a nod to Half-Life's original tagline

 
Black Mesa, previously known as Black Mesa: Source, is a fan-made remake of the original Half-Life. The ultimate goal of the mod is to recreate the original Half-Life from the ground up, using the advanced capabilities of the Source engine to create a new and more engrossing in-game world with more varied, complex environments and more challenging, realistic gameplay.
Originally requiring Source SDK 2007, Black Mesa is now considered standalone and now available at Steam for only $19.99. The original release date for the project was set for 2009, but was delayed for 3 years. On the 1st of September, 2012, the project leader Carlos Montero (cman2k) had announced that Black Mesa will be released in 12 days [1] and posted a countdown on the official website. [2]
Overview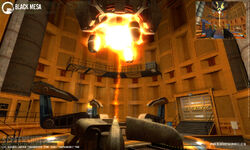 Black Mesa, whose development began in November 2004, was born of the discontent fans experienced when playing Half-Life: Source; when considering the living environment Valve created with Half-Life 2 using the Source engine, the original game fell far short of what many players thought could be done with the software, basically being a straight port, except for improved water and lighting effects along with the inclusion of ragdoll physics. According to the developers, "Black Mesa: Source was built and founded on the principle that Half-Life: Source did not do the original title enough credit... [Black Mesa] set out to reconstruct the original title, giving it new environments, models, and abilities."
Black Mesa features original textures, models, sounds, voice acting, and music (composed and produced by the mod's sound designer, Joel Nielsen) designed specifically for the mod. However the developers intend to preserve all of the gameplay elements from the original game, without adding entirely new enemies, weapons, or levels. The game uses Half-Life 2 models with custom textures, such as the crowbar, the Colt Python, the Headcrab, the Barnacle, and the crow.[3]
Since development began, the team has released many images, including in-game screenshots of most chapters and multiplayer maps, model renders, concept art, as well as several gameplay videos and trailers and excerpts from the soundtrack.
Most likely due to the amount of publicity given to an unofficial third-party mod, Valve Corporation privately asked the producers of the mod to remove the "Source" part from the title to avoid confusion on whether it is an official Valve product or not.
The developers released a teaser trailer in early 2007, and a full-length preview trailer in late 2008. They have also released images, videos, and concept art during the project's development. Black Mesa was given an official release date of "late 2009" in the spring of 2009, but this date has since been changed to "when it's done", after the development team was unable to fulfill this date.
After almost 8 years of development, the mod was released on September 14, 2012, although it is only playable up to the Lambda Core. Xen and the later chapters were excluded due to being unfinished at the time and slated for a release at some point in the future. As of September 11th, 2012, Black Mesa was accepted into the Steam Greenlight service with the next release to include the missing Xen chapters and possibly also the Deathmatch multilayer segment. The developers stated this version of the game would be a paid-for version but that the free version would still be available.
In May 2015, Black Mesa was released as a Steam Early Access, however it still does not include the Xen chapters but does include Deathmatch multiplayer mode. The old 2012 version however won't be updated anymore due to technical and time constraints.
Community Modifications
This is an abbreviated list of notable mods created for Black Mesa
A remake of Half-Life: Uplink was created by community member Hezus, and can be played as "Chapter 0".
A remake of the Hazard Course was released in December of 2015 for the mod version, but the Early Access version is yet to be released, due to technical problems with Black Mesa's Steam Workshop. This remake features the entire voice cast of Black Mesa.
TextFAMGUY1 created two extensive map packs called "On a Rail Uncut" and "Surface Tension Uncut" that seamlessly add areas from Half-Life that were cut by the Black Mesa team. TextFAMGUY1 later joined the team to work on multiplayer maps, with a heavily updated "Surface Tension Uncut" eventually being integrated into the main game's public beta in 2016.
.RK created two small expansions, the "'On a Rail' - Loop Mod" and "'We've Got Hostiles!' - Vent Mod" that adds in small parts of Half-Life cut from Black Mesa. The "Loop Mod" is fully compatible with the aforementioned "On a Rail Uncut".
Characters
Other small characters seen in Half-Life 2 are possibly also seen. For example, the headcrab Kleiner inspects seems to be Lamarr.
Like the original Half-Life, it includes groups of scientists and security guards that Gordon comes across during his path, although all the models have more varieties. Some of the scientists and guards have names of their own revealed through dialogue. HECU Marines again appear (including medics that were not present in the original game), as well as the Black Ops assassins (now wearing what appears to be black Advanced Knee Replacements or Long Fall Boots from the Portal series). Unlike in Half-Life, where all guards only carry a Glock 17, some guards are equipped with the Colt Python and Shotgun which boost some effectiveness against enemies (although security guards armed with the shotgun are not very effective as they are immobile while using it).
Awards and recognition
Trivia
Examining the desktops shown on the computers in the office levels show that they are running Windows XP. This is accurate, as the original Half-Life and Black Mesa are both set at some time in the 2000s.
Many have noted that despite his Doctorate, Gordon Freeman's job at Black Mesa is largely experimental, consisting mostly of manual labor. Black Mesa seems to make address this in Anomalous Materials, where two nameless scientists can be heard discussing how management has been forcing Ph.D's to perform functionary work.
The game includes a lot of nods and easter eggs pertaining to the Half-Life mythology, as well as questions and debates raised by fans on certain issues in the series.

A guard makes reference to Freeman cutting off his ponytail. In most concept art and promotional photos, Freeman has a ponytail (and even has one on his original Half-Life model) although in some photos it is completely absent.
A scientist in the locker room talks about the HEV suit and how it has a detachable helmet. In some concept art and promotional photos Freeman is seen with a helmet, which is absent in his original in-game model, as well as most other photos depicting the character. This has caused debate to fans whether or not Freeman is wearing his helmet at all during the original game.
Gallery
While the official website is the main source for most official images, all personal websites of the respective team members also provide further, exclusive images. The screenshots section is no longer updated, however new media is often uploaded to the Black Mesa wiki.
Screenshots
Models
Weapons
NPCs
Vehicles
Other
Concept art
Videos
References
External links
Ad blocker interference detected!
Wikia is a free-to-use site that makes money from advertising. We have a modified experience for viewers using ad blockers

Wikia is not accessible if you've made further modifications. Remove the custom ad blocker rule(s) and the page will load as expected.