Half-Life Wiki Social Groups
This month's featured article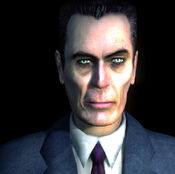 "Rise and shine, Mr. Freeman. Rise and shine. Not that I wish to imply you have been sleeping on the job. No one is more deserving of a rest. And all the effort in the world would have gone to waste until... well, let's just say your hour has come again. The right man in the wrong place can make all the difference in the world. So, wake up, Mr. Freeman. Wake up and smell the ashes."
―The G-Man

 
The G-Man is a mysterious and enigmatic character encountered several times in the Half-Life series. Referred to as a "sinister interdimensional bureaucrat", he is known to display peculiar behavior and to wield powers far beyond those of a human. His identity and motives remain completely unexplained.
He plays the role of an overseer and eventual employer, watching over Gordon Freeman and other characters as the series progresses, at times helping or hindering them.
Read more...
Vote for October's Featured Article!
— Vote Here!