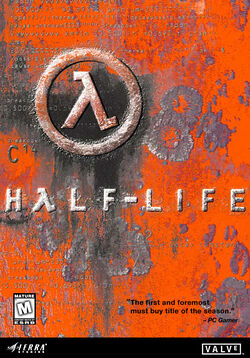 Welcome, welcome to the Half-Life Wiki. Whether you are here to stay or passing through on your way to parts unknown, we hope you like the place and choose to join our work. Here are a few good links for newcomers:
General help
Other
The Half-Life Wiki aspires to be a reliable source for all Half-Life fans to read and draw information from, and as such, fan-created continuity and fan fiction are not allowed outside of the mod articles. All in-universe material must be attributable to a reliable source.
Please do not remove talk page and forum comments, as they are part of the public record. Remember that you should always sign your comments on talk and vote pages using four tildes, like this: ~~~~.
I hope you enjoy editing here! If you have any questions, see the help pages, add a question to the Forum, ask one of our administrators or just leave a message on my talk page. -- Adapool (Talk) 11:23, June 21, 2012
Hi, I have been meaning to ask what your main spoken language is. I have noticed that in some of your edits the grammar is a bit back-to-front. Please don't take offense to this, I am just curious. -- Adapool 04:10, July 15, 2012 (UTC)
My main language is Chinese, i can speak very little English.sorry that i reply so late but i don't know how to use wiki talk page.
Sorry to say, but can you please stop adding information that isn't legible? This is an english wiki, and all the information that you're adding has really awful grammar. I don't have enough time to fix all your edits. I had to revert almost all of your edits because you're lowering the quality of articles on here. Please use a better translator or something, otherwise I'll have to block you for the bad quality edits. ΚλΤλΝλGØDΤλłκ 00:24, October 14, 2012 (UTC)
You don't have to leave the wiki entirely, Maybe working with images or something would be better, cleaning up after people is very time consuming and I'm quite a busy person. Thanks for understanding. ΚλΤλΝλGØDΤλłκ 10:18, October 14, 2012 (UTC)
Congratulations Yong Feng (留永锋)!

Due to your excellent contributions on the wiki, You have been awarded the Half-Life Wiki Helpfulness medal; Your contributions have helped the wiki in a big way and on behalf of the wiki, We thank you.
Keep up the good work!
I added your name to the list on the Administration page for Rollbacks. Thankyou for your help on here, you are doing a great job!!!! =D
Adapool (talk) 19:32, July 12, 2013 (UTC)
Yes, I set your name color to red (it does look a bit pink), If you prefer a different color just tell me, I was just trying to find a color that was different from Bureaucrats and Administrators.
Re:Wiki being almost dead
Edit
I know. You can read my reply to Shorty1982.
I'm pissed off that you undid my edit to the Long Fall Boots. I'm just asking you to look up "Long Fall Loafers". -TalCharles (talk) 16:03, August 6, 2013 (UTC)
Thank you!
Edit
Hello, thank you for adding my newly created article to the correct category. I was wondering where to put it =) --Liliana (my talk). 23:25, August 6, 2013 (UTC)
RE: Who is triagonist in Half-Life series?
Edit
I don't know, that's why I offered a more... neutral way of put it. In terms of importance I'd say: Gordon, Alyx, Eli, Breen, Mossman, Kleiner, Barney, Dog, Magnuson, Lamarr. But I think it would vary with each person. - A-06 (talk) 13:01, August 11, 2013 (UTC)
Your recent edits
Edit
Hi! Good job copying the images and text from combineoverwiki.net , much appreciated :) 85.221.154.52 19:13, August 31, 2013 (UTC)
PS: That Related achievements section is amazing! And it takes less space than the Template:Achievement, too!
Re: Vandalism
Edit
Thanks for letting me know he was vandalizing your talk pages as well, I hadn't checked his edit history. He's blocked now. -Shorty1982 (talk) 13:50, September 8, 2013 (UTC)
I'll try, I have to leave soon for church and I have work this afternoon. I'll be on whenever I can to keep an eye on things. -Shorty1982 (talk) 13:55, September 8, 2013 (UTC)
I've reverted as much of the vandalism I could find, I've protected quite a few pages from edits by new and unregistered users (including our own talk pages) and I've blocked a lot of these users. It is hard to stop this sort of vandalism spree as these people are using a myriad of ways to change their IP address to get around the blocks. These vandals seem to be targeting you and me specifically for some reason. Thank you for bringing this situation to my attention and thank you for reverting a number of the bad edits. -Shorty1982 (talk) 17:44, September 8, 2013 (UTC)
RE: Vandalism/revert wars
Edit
Yeah, I noticed it, and that suspicious "I'll demote you soon." At first I thought someone hacked your account or something.
I think it must be just one guy with a lot of spare time, it's incredible the amount of edits in such a short time. Maybe he/they focused on you because you are the one editing regularly over here. They've already reached my talk page, but now it's protected.
Anyway, thanks for the heads up. -- A-06 (talk) 21:45, September 9, 2013 (UTC)
Station 21
Edit
I won't say "no problem" because what you do is actually a problem. I am not that kind of a person though, I can easily forgive you, but, you know, that was a very unpleasant surprise. If you have any remaining honor, never do this again. Sandvich18 (talk) 18:34, September 18, 2013 (UTC)
You can read about moving this wiki here. In a nutshell - since wikia gets money because of ads on this site, and for Klow and the rest of the administration, this is not okay, Combine OverWiki has been moved from this site to another, hosted by ValveTime.net. Unfortunately, wikia administrators (global ones) weren't okay with losing profit so they banned Klow, SiPlus and the rest of admins, while finding new ones. You can edit here but it's a total nonsense because it's like playing a game in pre-alpha stage and adding stuff from the retail game to it. The new wiki has really progressed since moving: many more articles are cleaned up, there are many more articles, even after merging a lot of them, images, facts, researches, etc. I can't tell no not to do something because I am not an administrator here, but I really suggest moving to combineoverwiki.net. Sandvich18 (talk) 14:48, September 19, 2013 (UTC)
Of course not, combineoverwiki.net isn't hosted by wikia. Sandvich18 (talk) 16:53, September 19, 2013 (UTC)
Admin rights
Edit
I've given you admin rights, Please remember to only block IP's the vandalize for a maximum time of 3-6 months, mostly because IP's are dynamic and tend to change a lot. Other than that, enjoy the new tools! KλT 23:39, December 7, 2013 (UTC)