The title of this article is conjectural.
Although this article is based on official information, the actual name of this subject is pure conjecture.
The Xen Healing Shower is an upright healing device seen on Xen. Although its actual name is unknown, it is similar in appearance and functionality to a shower.
Overview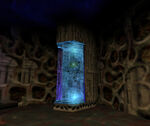 It is used by the Vortigaunts working there to heal themselves of possible injuries. Any Vortigaunt damaged by the player will run to the nearest Healing Shower to restore its health.
It appears to use the same healing water as that of the Healing Pool, healing the same amount of player damage per second, and with a seemingly limitless supply of healing power as well. However, here it is suspended in midair.
List of appearances
Ad blocker interference detected!
Wikia is a free-to-use site that makes money from advertising. We have a modified experience for viewers using ad blockers

Wikia is not accessible if you've made further modifications. Remove the custom ad blocker rule(s) and the page will load as expected.